I Love the
Internet
. Even if you do not speak or read other languages you can simply type in something like Google Translator which is what I did to see what is being said like these
from China
.
As you know Chinese news has very little freedom as to what they are allowed to print notice at the end of the article where they got the news from it makes you wonder if the admitted Communist Chinese are working in conjunction with the
Propagandists
in the United States??
Translation:
Chinese » English


■ China's tire exports to the U.S. one-third of the total amount of exports. Xinhua News
Agency United States President Barack Obama to risk offending China's insurance,
announced that the Chinese impose punitive tariffs on imported tires,obviously is to
cozy up to the United Steelworkers (USW) to support his proposed health care reform
package. This also indicates that the United States for the first time to use a
special safeguard clause, that the United States in 2001 to support China's accession to
the World Trade Organization agreements 421.

421 in accordance with the terms of the United States by Chinese companies or workers
who take the impact of the imported product may require the Government to protect,
only shows that China imported products"market disruption" or "influx", the impact of
the U.S. manufacturer.
Different from traditional anti-dumping case, the U.S. government should not determine
the Western countries are unfair competition, or are below the true cost of sales.

It means a variety of industries are demanding the opening 421 in order to reduce
the competition from Chinese products.
Former U.S. President George W. Bush Zeng as state economic interests of the ground
4 times refuse to use the 421 applications.

Barack Obama will be 24th of this month to 25, the host identity, in Pittsburgh hosted
the G20 summit,when China will also attend. In this sensitive moment, Obama has decided
to impose punitive tariffs on China, I believe not pointless.

Expect trade unions to support health reform

Some U.S. media pointed out that Obama, as the adoption of health care reform program
for the biggest political task,but health reform is still much controversy, so that Obama's a
difficult position.
Large number of members of the United Steelworkers of America, it is important support
for Barack Obama actively sought power. USW earlier proceedings in the United States
accused China of dumping tires,causing American workers to lose 5,000 jobs. Obama not
hesitate to offend China, and do not want to offend USW, because do not want to damage
relations with the trade unions.

In addition, USW has spared no effort in supporting the Democratic Party politicians,
and to make large politicalcontributions, labor unions generally will be decided, I think
Obama as a recompense for their support.
However, some business people and policy organizations, not that Obama is to repay
the trade unions, believe that he is out of the country's economic considerations
. ■ "The Wall Street Journal" / "New York Times"
http://paper.wenweipo.com/2009/09/13/CH0909130002.htm
This article is
obviously written by the Chinese themselves no other sources
listed.
"
Zhang Hanlin said the Chinese government should actively negotiate with the United
States,as far as possible to minimize the loss of China's enterprises range. Commerce
Department officials today said that China will retain all rights to make further reaction,
so the Chinese Follow-up counter-measures worthy of attention.
On the other hand, Chinese enterprises should pay close attention to the relevant
production abroad, changes in the environment, to develop appropriate measures to
adjust the direction of trade.
Here are some other headlines below and if you would like to read them you can access

Google Translator here.


You can get an idea of what the news is referring to by the pictures or just cut and paste
the titles this for example are the titles on the current page middle section where the picture
of the car is. Just remember to see where the news source is from (i.e, NYT) who by the
way
just wrote
"
The bigger risk for China, economists and corporate executives have periodically warned, is that
trade frictions could cause multinationals to rethink their heavy reliance on Chinese factories in
their supply chains. The Chinese targeting of autos and chickens affects two industries that may
have the political muscle in the United States to dissuade the Obama administration from
aggressively challenging China's policies."
This is what I found regarding that on Chinas site now regarding that (translate it) or here is
what it
breaks
down to.
http://paper.wenweipo.com/2009/09/14/YO0909140003.htm
China Lightning strike back to counter the US car chicken (Figure)
http://paper.wenweipo.com/2009/09/14/CH0909140001.htm

Ministry of Foreign Affairs to protest tire special protection (Figure)
http://paper.wenweipo.com/2009/09/14/CH0909140002.htm

Experts: China has not launched a full trade war (Chart)
http://paper.wenweipo.com/2009/09/14/CH0909140003.htm


Ban on entry into India do not want a large number of Chinese laborers to
build power plant parameters (Figure)
http://paper.wenweipo.com/2009/09/14/CH0909140004.htm


LONDON: Barack Obama's visit to Dalai Lama's headquarters assistant
http://paper.wenweipo.com/2009/09/14/CH0909140005.htm

Trade protection is inevitably a lose-lose
http://paper.wenweipo.com/2009/09/14/CH0909140007.htm


The White House claimed that "nothing but carry out laws and regulations"
http://paper.wenweipo.com/2009/09/14/CH0909140008.htm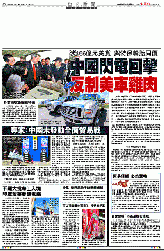 http://www.chrismartenson.com/blog/throwing-caution-wind/27393
http://paper.wenweipo.com/2009/09/14/CH0909140001.htm
http://paper.wenweipo.com/2009/09/14/CH0909140002.htm
http://www.wenweipo.com/
http://www.marketwatch.com/story/china-mulls-sanctions-on-us-imports-2009-09-13