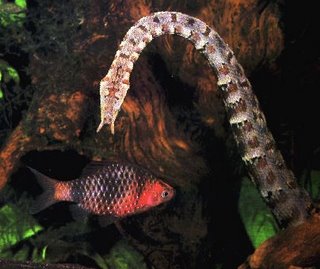 Snake Tricks Fish to Swim Into Its Mouth
More on that story below but it reminded me of tricking Americans into the

obama

deception of "hope and change". Watch this

Celente

video this is quite interesting he calls him

obamageddon

one of my pet nicknames for the resident. In the video he talks of the economic collapse and riots and food shortages and coincidentally speaking of food shortages...
Now more on the New Global Currency Hat Tip Economic Policy Journal...
An International Replacement for Treasury Notes Is Born
Another major step in the demise of the dollar as the world's reserve currency has just taken place.

The Executive Board of the International Monetary Fund (IMF)has approved a framework today for the issuance of notes to member countries and their central banks. The notes will
not
be denominated in dollars, but in

SDR's

and are clearly an alternative to Treasury notes for central banks and others cleared to trade in the notes.

Under the framework, members may sign agreements to purchase IMF notes up to a limit set by the member. Several members have already expressed their interest in buying IMF paper, with China signaling its intention to invest up to US$50 billion, and Brazil and Russia up to US$10 billion each.

Issuance of notes could begin after the first note purchase agreement has been concluded with a member. The IMF would issue notes at times when loan disbursements are made to members receiving financial assistance from the IMF. Once purchased by member governments, or their central banks, the notes would be

tradable

within the official sector, which includes all IMF members, their central banks, and 15 multilateral institutions—those which are designated holders of Special Drawing Rights.

The principal of the notes will be denominated in

SDR

, the Fund's unit of account, which is a currency basket composed of the U.S. dollar, Euro, Japanese Yen, and Pound sterling. Interest payments will be made quarterly, at the official
SDR

interest rate
, which is a weighted average of 3-month interest rates in these currencies.

The notes have a maximum maturity of five years, which is consistent with the maximum maturity of IMF lending under Stand-By Arrangements and Flexible Credit Line arrangements. Commitments under such IMF lending arrangements have increased to more than

SDR

100 billion (about US$150 billion) in the past year, as the Fund has responded flexibly to members' financing needs during the global crisis.

"This framework for issuing the IMF notes marks a significant step forward in our continuing drive to make sure the IMF can respond effectively to member countries' needs in these challenging and uncertain times," the Managing Director Dominique Strauss-

Kahn

underscored.
A small water snake has developed a sneaky trick: It startles fish into swimming right into its mouth.