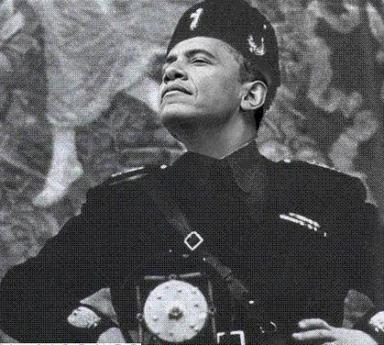 Obama: Honduras Coup "Not Legal"
What is wrong with this guy? You have a sitting president who is literally pulling an Andrew Jackson and defying his own Supreme Court, and he gets removed from office (rightly) and this coward takes the side of the Stalinist dictator?!? Did I miss a meeting or something?!?
Well Hoo Ray for the people of Honduras I commend and respect you and your Supreme Court for fighting the Dictator and the scum bags at the United Nations!
Now only if our O-Mussolini and the Banana Republic Dictators at the United Nations could keep their noses out of it!
We the decent citizens of the United States stand behind you and your Supreme Court for having the Courage and Conviction to fight for your Democracy. Sadly it seems our own America has been taken over by a Fascist and a Corrupted Court and we have become a Banana Republic maybe your fight for Freedom will encourage Americans when the times get worse to fight once again for ours.
Honduras Supreme Court Judge Defends President Ouster
Honduras's military acted under judicial orders in deposing President
Manuel Zelaya
, Supreme Court Justice
Rosalinda Cruz
said, rejecting the view of President
Barack Obama
and other leaders that he was toppled in a coup.
"The only thing the armed forces did was carry out an arrest order," Cruz, 55, said in a telephone interview from the capital, Tegucigalpa. "There's no doubt he was preparing his own coup by conspiring to shut down the congress and courts."
Cruz said the court issued a sealed arrest order for Zelaya on June 26, charging him with treason and abuse of power, among other offenses. Zelaya had repeatedly breached the constitution by pushing ahead with a vote about rewriting the nation's charter that the court ruled illegal, and which opponents contend would have paved the way for a prohibited second term.
She compared Zelaya's tactics, including his dismissal of the armed forces chief for obeying a court order to impound ballots to be used in the vote, with those of Venezuelan President Hugo Chavez.
"Some say it was not Zelaya but Chavez governing," she said.
Arrest Order
The arrest order she cited, approved unanimously by the court's 15 justices, was released this afternoon along with documents pertaining to a secret investigation that went on for weeks under the high court's supervision.
Zelaya said yesterday he had no plans to seek re-election when his four-year term ends in January. In an interview with Spanish newspaper El Pais the day before his overthrow, he said the non-binding vote, which included a question on allowing re- election, would only benefit his successor.
Cruz acknowledged that the interim government faced a "very difficult" task trying to sway the U.S. and other countries to recognize its authority.
"But as a sovereign and independent nation, we have the right to freely decide to remove a president who was violating our laws," she said. "Unfortunately our voice hasn't been heard."
The United Nations General Assembly approved a resolution yesterday calling for Zelaya's reinstatement and asking that no government recognize the interim replacement appointed by congress, Roberto Micheletti. The U.S. was a co-sponsor of the measure.
OAS Demand
The U.S. also joined 33 other countries in an emergency session of theOrganization of American States yesterday to demand Honduras reinstate Zelaya within 72 hours or face suspension from the Washington-based group. Zelaya said he will return to the country this week, with OAS Secretary GeneralJose Miguel Insulza and Argentina's President Cristina Fernandez.
Cruz said the military decided to shuttle Zelaya out of the country for his safety and that of other Hondurans because riots would've erupted had he been held for trial.
"If he had been allowed to stay in the country, there would've been blood on the streets," she said.
Although lawmakers were moving toward impeachment proceedings against Zelaya for trying to conduct the poll, the ouster allows him to portray himself as a "victim," said Rafael Lopez, a senior Honduras adviser to the Washington-based International Foundation for Electoral Systems.
Forced Exile
"No country on earth" can legally force an elected official into exile without a formal proceeding, he added. "The Honduran government can't just take any citizen to an airport and kick them out, let alone a president."
David Matamoros, a member of Honduras' Supreme Electoral Tribunal, also defended the military's action.
He said Zelaya originally called the vote a plebiscite, then, when that was barred, shifted to describing it as a poll, creating uncertainty as to its legal standing and his intent. No government agency was willing to conduct the vote, he said. All the ballots and equipment for the illegal poll were flown in on a Venezuelan plane, he said. The court ordered the materials confiscated.
Still, he acknowledged the interim government's hold on power was tenuous.
"Now we have the international problem," he said in a phone interview from Tegucigalpa. "How do we convince people this was in our best interest after the president was kicked out of the country in his pajamas?"
http://www.bloomberg.com/apps/news?pid=20601086&sid=axGENUiy9yKs