Imagine how hard it must be for these non journalists posing as real news people to cover a story that is not to their liking?  
If only the word did not get out that it was not a small fringe group but in fact millions of Americans voicing their discontent with the smelly ones tax and spend policies by delivering over 1 million tea bags to the White House and thousands across America attending Tea Party Protests forcing them to try to hide their disdain.....
Leave barrackkkkk alone you could just see her inner scream watch as Chicago Tea Party protesters fail to see the love she obviously feels for the smelly one.....
Video: CNN Reporter obviously right wing types harrassing her
B
Fox News televised the partial unloading of more than 1 million of our tea bags at Lafayette Park in Washington, D.C. near the White House this morning (note background of photo)! Unfortunately, representatives ofThe Patriot Depotand Reagan.org were told by National Park Services officials to reload the truck. Why? Even though the original protest permit was approved, our tea bag team was conveniently told that it was not the "proper" permit. This is an absolute outrage and a denial of our First Amendment rights, which read:
Congress shall make no law respecting an establishment of religion, or prohibiting the free exercise thereof; or abridging the freedom of speech, or of the press; or the right of the people peaceably to assemble, and to petition the government for a redress of grievances.
But our tea bags are not leaving the Capitol City any time soon! We've just set up a towering display of more than 1 million tea bags at a new location in Washington, D.C.-the headquarters of a free market think tank,The Competitive Enterprise Institute. Your tea bags are sending a loud and clear message: Enough is Enough.
More Tea Party pics...
Photo: Nashville, TN Tea Party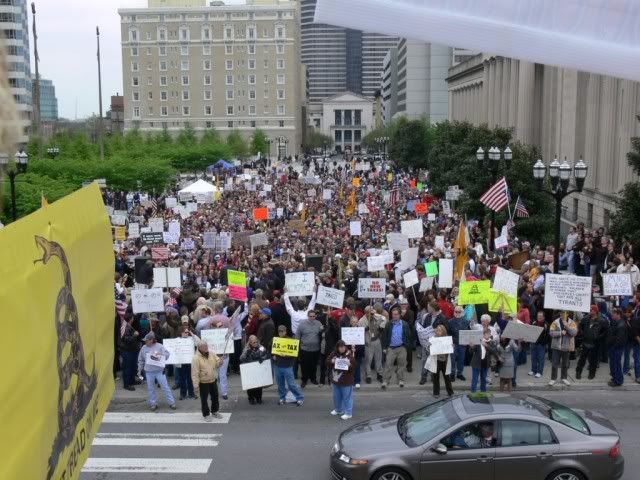 Photo: Lansing, MI Tea Party
Photo: Indianapolis, Indiana Tea Party
Of course the twin cities fox station had their own liberal view given by a barney frank type reporter Tom Lydon anyone noticing a trend with the reporters all sounding like they were sent the same script?


























Fiscal Conservative

Free-For-All at Capitol
'Tea Party'
Created On: Wednesday, 15 Apr 2009, 9:10 PM CDT
ST. PAUL, Minn. - On the lawn of the Minnesota State Capitol,
 a grass roots
 protest fueled by talk radio
 was set to be a kind of modern day Boston Tea Party, 
but it was more like a
 fiscal conservative free-for-all.
Anti-tax, anti-stimulus, anti-deficit,
 anti-Obama and in some cases, anti just
 about everything government does.
All in all I think no matter how badly they despised it 
and did not want to
report it and with the obviously left spin in the 
reporting I think Americans 
made a good start in letting them know..
WE ARE SERIOUS.
Lori